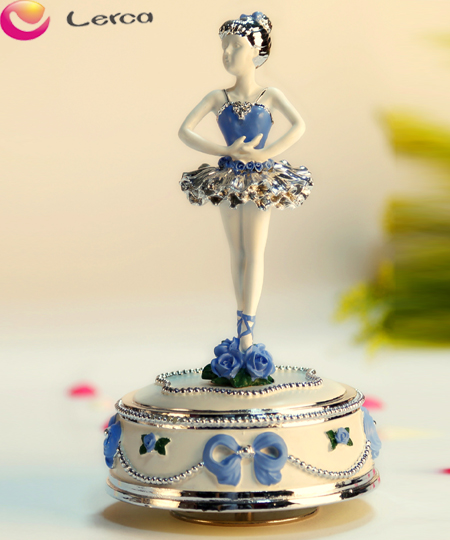 Rotation ballerina music box-blue
Rotating Ballerina music box-pink
purchase order No.: 60229
Description:
These specially-designed items are perfect for any gift-giving occasion and they are the ideal self-purchase.

Features:
*Material: polyresin
*Features a detailed angel and rose pattern
*Built-in music tone
*Color: Pink or Blue are available
*Model No.: 60229
*Size: D10*H19cm
Package details:
1pcs ballerina music box
1pcs color gift box
18pcs/ctn
carton size: 40.5*40.5*47.5cm

Lead time:
Samples or trial order(most items in stock):7-10days
Bulk order:30-45days

Payment terms:
Samples or trial order:100% TT
Bulk order:30% as deposite, 70% need to be balanced before delivery
Price terms: Shenzhen FOB, EXW,CIF


Shenzhen Jun Rong Gift Ltd
www.lercagift.com
TEL:0086-755-83156852
FAX:0086-755-83156852
EMAIL:gdzh@vip.163.com
ADD:Room1307,Zhantao Technology Building B,No.1079 Minzhi Road,Longhua Avenue,Shenzhen,China
*

Indicated required field
Inquire:Rotation ballerina music box-blue
*

First Name:

Please fill in your First Name

*

Last Name:

Please fill in your Last Name

Company name:

Please fill in your company name

Telephone number:
Mobile phone number:

Please fill in your telephone number

*

E-mail:
Country:
Address:

*

Inquire intention description:

*

Validate Code:
Please fill in the quantity and description of

Inquire

products for uniform stocking.
Related News
Your E-mail:

*

Content:

(Up to 1,000 characters)
Verification code:
Not clear?!
Tel:0086-755-83156852
Email:gdzh@vip.163.com
Address: Room1307,Zhantao Technology Building B,No.1079 Minzhi Avenue,Longhua,Shenzhen,China