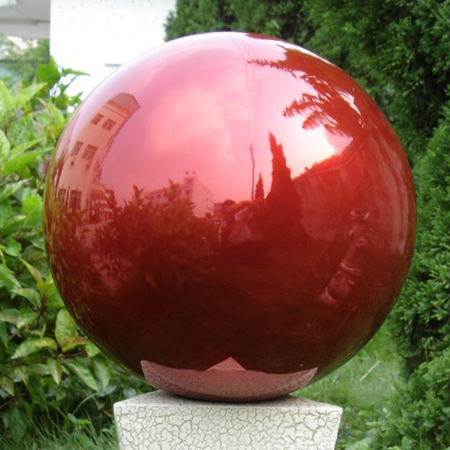 colorful 3"gazing ball
Detailed Product Description
1. product Name: stainless steel gazing ball
2. High Quality, shatterproof, non-tarnishing and they can float
3. Excellent service
4. Delivery on time
5. reasonable price
6. Good Faith
1. product Name: stainless steel gazing ball
2. Material: stainless steel
3. size: 3inch, 4inch, 6inch, 8inch, 10inch, 12inch, 14inch, 16inch, 20inch, 22inch, 25inch and 30inch
4. The bigger the order amount is, the favorable the price will be
5. packing :each item wrap in PE bag/styrefoam/cardboard box
6. We offer all kinds of stainless steel gazing ball with good quality and competitive prices.
7. Please don't hesitate to contact us for further information, your sincerely inquires will have our best and prompt attention.
8. We are the only factory in China who can offer different transparent color in gazing ball including green, cooper , purple, red, blue, gold, mystic and silver color With small order quantity we can ship mystic, gold and silver gazing ball by airshipment.


Shenzhen Jun Rong Gift Ltd
www.lercagift.com
TEL:0086-755-83156852
FAX:0086-755-83156852
EMAIL:gdzh@vip.163.com
ADD:Room1307,Zhantao Technology Building B,No.1079 Minzhi Road,Longhua Avenue,Shenzhen,China
*

Indicated required field
Inquire:colorful 3"gazing ball
*

First Name:

Please fill in your First Name

*

Last Name:

Please fill in your Last Name

Company name:

Please fill in your company name

Telephone number:
Mobile phone number:

Please fill in your telephone number

*

E-mail:
Country:
Address:

*

Inquire intention description:

*

Validate Code:
Please fill in the quantity and description of

Inquire

products for uniform stocking.
Your E-mail:

*

Content:

(Up to 1,000 characters)
Verification code:
Not clear?!
Tel:0086-755-83156852
Email:gdzh@vip.163.com
Address: Room1307,Zhantao Technology Building B,No.1079 Minzhi Avenue,Longhua,Shenzhen,China